Toolshed: Prospects jockeying for stat leads
Guerrero, Kirilloff, Kopech attempting to stay atop key categories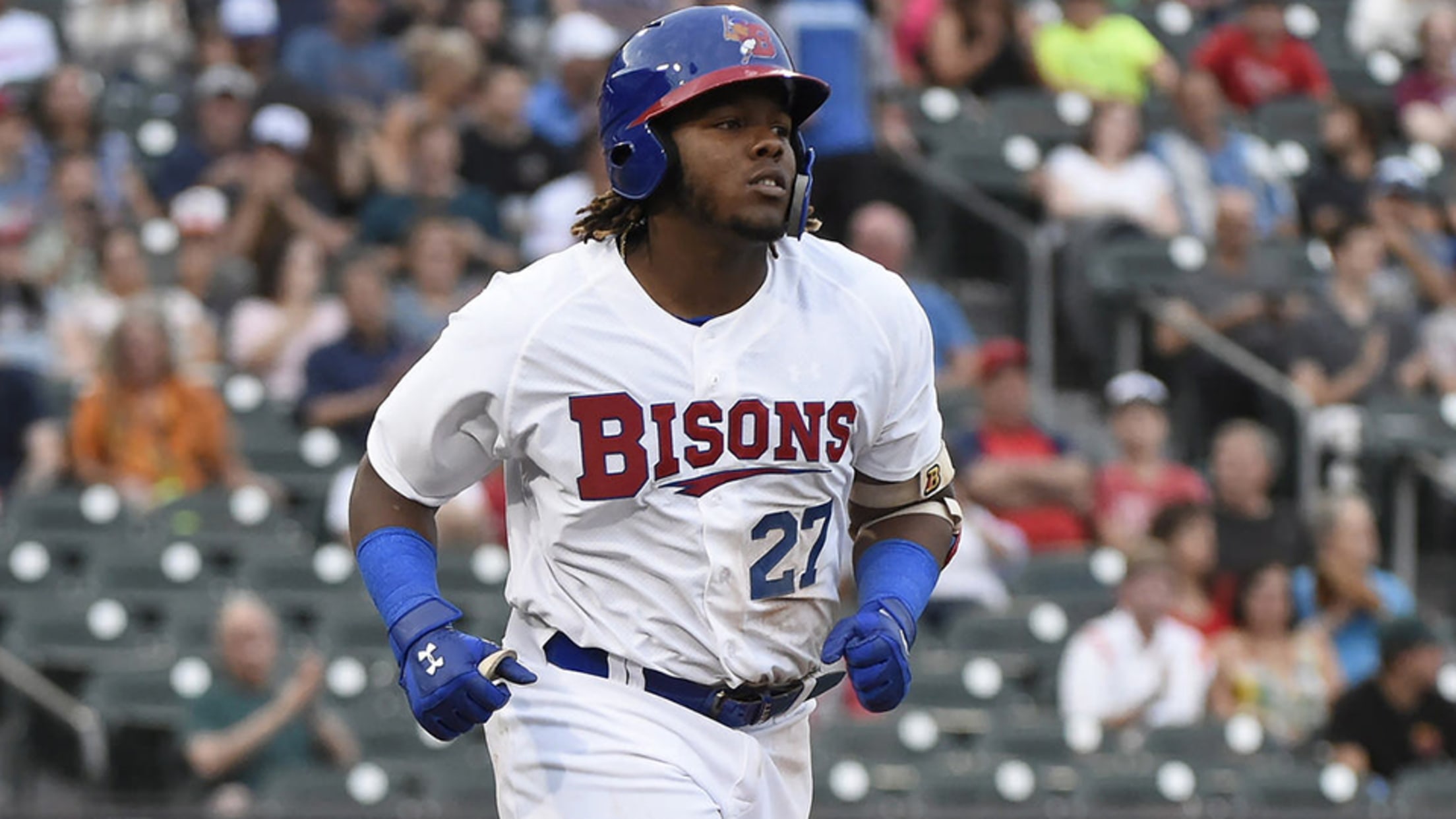 Vladimir Guerrero Jr. has a 48-point advantage at the top of the Minor League leaderboard for average. (Nathan Denette/The Canadian Press)
Nineteen days are all that remain on the full-season Minor League calendar.Last Friday, Toolshed blended some individual accomplishments with team goals to look at which prospects could have a major impact on playoff races across the Minors. This time, the column keeps its focus squarely on the players themselves.While the
Nineteen days are all that remain on the full-season Minor League calendar.
Last Friday, Toolshed blended some individual accomplishments with team goals to look at which prospects could have a major impact on playoff races across the Minors. This time, the column keeps its focus squarely on the players themselves.
While the Major League landscape focuses on which NL Rookie of the Year candidates will pull away (seriously, how good have Juan Soto and Ronald Acuña Jr. been?) or who might beat out the injured Mike Trout in the AL MVP race, this Toolshed looks at the statistical races happening across Minor League leaderboards. Some are well-known (like a certain Blue Jays prospect's chase for a special batting average). Others less so. One thing's for sure -- these storylines will add even more excitement over the final three weeks of an already memorable season.
Home runs
Leaders: Bobby Dalbec, Seuly Matias, Ibandel Isabel, 31
Contenders: Peter Alonso (29), Casey Golden (28)
Let's start with long balls, since the category comes with an actual prize in the form of the Joe Bauman Home Run Award. Last year, AJ Reed won the crown with 34 blasts for Triple-A Fresno, tied for the lowest total for a Bauman Award since it was first handed out in 2002. It's looking like that this season's winner will eclipse that mark, and with three players tied at the top and a few more in striking distance, it could be one of the most competitive races in recent memory. Matias had been in the top spot for most of the season but has trailed off with only seven homers since July 1. (A back injury has limited him to only eight games in August.) Dalbec has had no issues jumping to Double-A Portland with five long balls in 10 games there and could reap the rewards of a home-heavy schedule the rest of the way as well as a three-game trip to homer-friendly Reading. Isabel would seem to be at a disadvantage in the pitcher-friendly Florida State League, but even he's caught fire at an opportune time with seven homers in his last nine games. Alonso (Triple-A Las Vegas) and Golden (Class A Asheville) can't be counted out because of their home environments either. Though it won't matter for the actual leaderboard, a tied Bauman Award race is decided by who has the most RBIs. Alonso (105) and Dalbec (97) have clear advantages there.
Average
Leader: Vladimir Guerrero Jr., .397
Contenders: Taylor Ward (.349), Nathaniel Lowe (.348), Alex Kirilloff (.347), Alex Verdugo (.346)
As close as the home run leaderboard looks, this has been the most interesting category of the Minor League season for one name and one name only. Guerrero has been around the .400 mark since late April and hasn't looked back. Despite missing about five weeks with a left knee injury, he's recently picked up enough plate appearances to qualify in the slash-line categories again, and he's almost lapping the field here. The question isn't about if he'll win the Minor League hitting crown. That's in the bag. (Seriously, if he was to get his season average down to Ward's .349, which will stay there as he's in the Majors, Guerrero would need to go 0-for-37. Let's play with the more fun possibility. Guerrero obviously has a real chance to become the first full-season Minor Leaguer to hit above .400 since Aaron Pointer batted .401 in 1961. Triple-A Buffalo has 20 games left. Assuming Guerrero continues to average about 3.7 at-bats per game, he'd need to go 31-for-74 (.419) the rest of the way to finish above the .400 mark. That's a tall task for a 19-year-old at Triple-A, but tall tasks seem to be Guerrero's specialty.
On-base percentage
Leader: Michael Reed, .463
Contenders: Guerrero (.452), Ward (.446), Daniel Vogelbach (.444)
This is the only time Guerrero will pop up somewhere other than as the leader of a slash-line category. After seven seasons in the Brewers system, Reed is enjoying a bit of a renaissance with Braves affiliates after signing as a free agent last offseason. He's walked in 16.4 percent of his plate appearances between Double-A Mississippi and Triple-A Gwinnett, although that's not entirely new for a player who's posted a career .382 OBP in the Minors. However, the 25-year-old outfielder has gotten the biggest boost from a .467 BABIP that has seen him post a career-high .342 average. More hits than ever are falling in, and while that level of BABIP isn't sustainable, it has boosted his OBP to this incredible height and has gotten him five Major League appearances this season.
Slugging percentage
Leader: Guerrero, .672
Contenders: Jeff McNeil (.617), Lowe (.601), Mike Tauchman (.599), Eloy Jiménez (.598)
Yes, the game's top prospect isn't just hitting the ball a ton; he's also generating a lot of power. Guerrero's 18 homers across all levels is already a career high, despite the missed time, and he's collected 43 extra-base hits total in 78 games, the same amount as last season in 31 fewer contests. That's why everyone gets so excited about Guerrero's offensive potential. He's got an elite hit tool and an elite power tool, and that combination is rare.
OPS
Leader: Guerrero, 1.124
Contenders: Lowe (1.037), McNeil (1.028), Vogelbach (1.019), Tauchman (1.013)
Lowe, a 13th-round pick out of Mississippi State in 2016 and now MLB.com's No. 9 first-base prospect, has produced an OPS above 1.000 at all three of his stops on the Tampa Bay ladder and is hitting .348/.436/.601 with 25 homers in 108 games on the season. If Guerrero were to slump (admittedly, not likely), it's not impossible that the 23-year-old left-handed slugger, who has five extra-base hits in seven games since moving to Triple-A Durham, could catch him with a hot second half of August.
Hits
Leader: Kirilloff, 154
Contenders: Josh Fuentes (153), Lowe (143), Kevin Smith (141), Ildemaro Vargas (140)
Eighty-four hits at Class A Cedar Rapids, and 70 more at Class A Advanced Fort Myers. The Twins would have taken a full year of health from their 2016 first-rounder after he missed all of last season due to Tommy John surgery, but he's proven to be more than just healthy in 2018. Kirilloff has always had the chance to show a promising bat, but this level of production this quickly has boosted him to the No. 30 spot in MLB.com's overall prospect rankings. It doesn't take much squinting to view a long-term lineup in Minnesota featuring him and 2017 top overall pick Royce Lewis, especially since both are now teammates in the FSL.
Extra-base hits
Leader: Kirilloff, 63
Contenders: Corey Ray (62), Dalbec (62), Smith (58)
How quickly power would come for Kirilloff was a question even before the elbow surgery, but it's come along rather quickly with 17 homers, seven triples and 39 doubles between two affiliates. That said, Ray's move to the No. 2 spot has been equally surprising given the start to his pro career. The Brewers' 2016 first-rounder saw his stock plummet last season after he hit just seven homers and produced a .679 OPS for Class A Advanced Carolina. He's since gone deep 25 times and added seven triples and 30 doubles this season for Double-A Biloxi while posting an .854 OPS. With 151 K's, there are still too many strikeouts in his offensive profile, and that's keeping him out of the top 100 at present. But at least the arrow is pointing up again for the No. 5 pick from two years ago.
Stolen bases
Leader: Myles Straw (61)
Contenders: Buddy Reed (48), Vidal Brujan (48), Brayan Morales (46)
The Astros' No. 14 prospect has had a leg up on the competition in this category for most of the season, and after stealing three more bases Tuesday night, it doesn't look like he has any plans on slowing down the rest of the way. Straw, who has plus-plus speed, has only been caught eight times in 69 attempts as well. Though he's not yet on the 40-man roster, he could become a pinch-running specialist with Houston down the stretch beginning next month.
ERA
Leader: Alex Fagalde, 1.42
Contenders: David Parkinson (1.51), Osvaldo Hernandez (1.81), Garrett Whitlock (1.85), Ramon Rosso (1.86)
Fagalde was a 30th-round pick out of UC Riverside last year but has made his first full Minor League season a potentially special one. The 24-year-old right-hander has allowed just one earned run over his last six starts (36 innings), good enough for a 0.25 ERA in that span, to claim this spot. Even since moving from Class A Peoria to Class A Advanced Palm Beach, he's only given up the one earned run in 18 frames, striking out 17 and walking three. Of course, one even OK start could change the leaderboard here, as Parkinson learned when he gave up two earned runs in five innings for Class A Advanced Clearwater last Friday, causing his ERA to "jump" from 1.41 to 1.51 and thus moving him out of the top spot.
Strikeouts
Leader: Michael Kopech, 161
Contenders: Josh James (160), Drew Gagnon (152), Dean Kremer (151), Taylor Widener (151)
Kopech, who owns one of the Minors' best fastballs, finished sixth with 172 strikeouts in 134 1/3 innings last season but is now in the driver's seat to take the top spot this time around. While he's greatly improved his walk totals of late, he continues to rack up K's with 56 strikeouts (compared to eight walks) through 41 innings since July 1. That said, James (37.5 percent), Kremer (34.2) and Widener (31.9) all have better overall strikeout rates than Kopech's 31.0, so there is some compiling going on here. (Only Gagnon at 137 has more innings pitched than Kopech's 120 1/3 this season.) James is next slated to pitch Saturday, while Kopech should go a few days before that, so check in over the weekend to see who could still hold the upper hand as the calendar winds down toward Labor Day.
WHIP
Leader: Denyi Reyes, 0.88
Contenders: Tyler Wells (0.90), Fagalde (0.90), Kyle McGowin (0.93), Corbin Martin (0.93), Patrick Sandoval (0.94)
What was once looking like a lost season on the Red Sox farm could get a major boost should Dalbec claim the Bauman Award and No. 30 prospect Reyes claim the WHIP title. The 21-year-old right-hander has shown impressive control at every stop (29 walks in 306 career innings) but has carried the skill to a new level with only 15 free passes in 134 1/3 frames between Class A Greenville and Class A Advanced Salem this season. He's also holding batters to a .207 batting average. The WHIP has ballooned some at 1.22 through his first two starts in the Carolina League, where he's been more hittable, so he'll have to rein that in if he's going to hold off the more experienced Wells, a 2016 15th-round pick by the Twins who is currently pitching for Double-A Chattanooga.
Sam Dykstra is a reporter for MiLB.com. Follow and interact with him on Twitter, @SamDykstraMiLB.